Hey pals! I know it has been one million years since we sent out a newsletter, but we are alive and still doing the things. We just got back from the Old School Bluegrass Camp (we went as campers) and it was an amazing time for music and people and team-building! We stayed at Fort Onion (and also up super late jamming every night):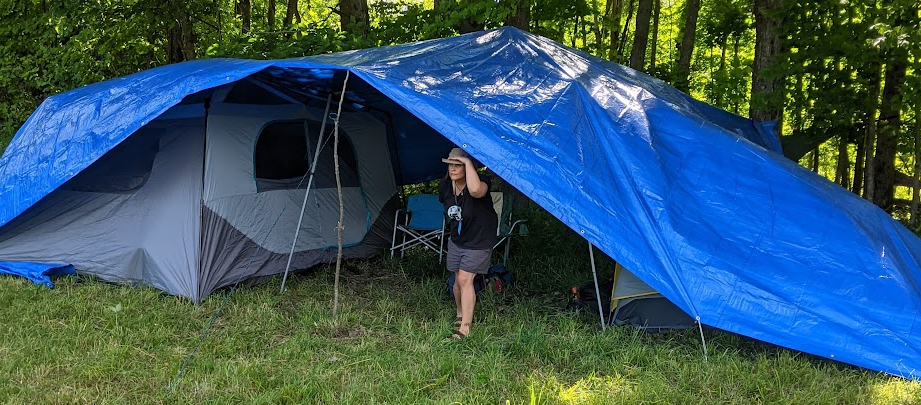 We are still doing Banjo Church every week on Youtube and Facebook - Sundays at 11 AM, ET. We post a Google Slides document with the charts, we talk to you all in the chat, we play a bunch of songs together - it's the perfect amount of social interaction for a bunch of introverts sometimes. Folks tune in while cooking and cleaning and gardening, also, which gives off weekly-radio-show vibes in the best way.
We're also working on a couple new full-length albums, both of which are full of brand new music. The practice schedule is a work of administrative genius, let me tell you. People keep taking vacations and having lives.
Here's where you can find us over the next couple months:
July 22, 12:30 PM: Lunch gig at UW's The Grad House
July 23, 7:00 PM: Wixan's Bridge Pub - Springtide Music Festival
August 5, 12:00 PM: Owen Sound: Music at the Market
August 12, 7:00 PM: TWB Brewing
August 13, 7:00 PM: Waterloo Brewing Taphouse
August 27, time TBD: Galt Porchfest
Here's a track from the archives! Dave and Esther playing a pretty-as-heck version of "The Butcher's Boy" with Esther on oboe (!?). BLAST FROM THE PAST